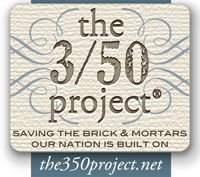 A good friend of mine, a vivacious woman in her early sixties, has been a nurse for almost forty years. Lest you think that this column will be filled with elements of the recent raging health care debate, lectures from my perspective on the matter, or other political diatribe, let me reassure you: I only want to share a joking observation that my friend has been known to make on more than one occasion. The biggest difference in the last ten years' of taking patient histories? The number of patients with more than one tattoo, especially women.
So perhaps it should come as no surprise that the latest protagonist of the cozy mystery series which are so popular with women should be an intelligent, young amateur crime-solver who owns – not a catering business, or a quilt store, or even an herbalist shop, like so many of her sisters-sleuths – but a tattoo shop. Move over, Miss Marple and Nancy Drew. Meet Karen E. Olson's latest character, Brett Kavanaugh, owner of "The Painted Lady", a tattoo shop in Las Vegas offering ink body art to upscale clientele.
Brett, originally a Jersey Girl, had been supporting herself in New York City by learning the tattooing business: her degree in art (concentration in painting) from the University of Arts in Philadelphia was not bringing the kinds of job opportunities she'd hoped it might, namely the kind with a paycheck. As her Broadway actor fiancé became more enamored of himself, she'd found herself enjoying her new trade more than she'd thought she would – and more than he liked. His asking her to give up her 'disreputable' job was the final straw, motivating Brett to move to Vegas to live with her police detective brother, and buy the tattoo shop from its former owner. Thus, a cozy mystery series for the new generation is born!
Brett, with her bright red hair, tattoo "sleeve" featuring Monet's water lilies, and Chinese dragon tattoo wrapping her torso, is a colorful character herself, but mystery author Olson keeps on giving, surrounding her with everything you'd expect in Vegas. Brett's fellow tattoo artists and co-workers include 'Bitsy', a beautiful blond little person, who is the office manager; Joel, a gentle giant who can't stay away from the gelato offered at the café in the Venetian-themed square where the "Painted Lady" is located; and Ace, more than slightly vain, whose movie-star looks actually make him the least exciting of the group.
In their first adventure,
The Missing Ink
, a young woman comes to the "Painted Lady" to make an appointment for a devotion tattoo – a heart with the name of her beloved inside – only to show up all over the national news when it is discovered that she has gone missing, less than a week before her wedding to one of America's richest bachelors. The staff at the "Painted Lady" were the last to see her. The plot thickens, pandemonium ensues, with Brett in the middle of it, much to her police brother's displeasure. Readers will laugh out loud and bite their nails as Brett's search for answers takes her through the best resorts on the strip, the seedier side of the Vegas "tat" shops, and to an Elvis karaoke bar.
The "Tattoo Shop Mysteries" are a combination of the best elements of both hard-boiled mysteries and their softer cousins, the cozies. Brett, who is edgier than many of the librarians and knitting-club women from other cozy mysteries, reminds me more of Stephanie Plum (bounty hunter from the wildly-popular series by Janet Evanovich) or of Kinsey Milhone (private detective in Sue Grafton's long-running 'hard-boiled' mysteries). This new mystery series, however, from Karen Olson, retains this important trait by which cozy mysteries are known – the sex and the violence are discrete, usually happening 'off-screen', without much description of the more risqué or gory details. Though the characters and the ambience are wilder than those in "Murder She Wrote", this series is definitely a "safer" bet for teen readers and more appealing with its contemporary take.
To tattoo or not to tattoo? Email Hobo your tattoo secrets at his new email address, from_my_shelf@yahoo.com. Not sure how to eat a red herring? Check Hobo's recipes at his blog, http://frommyshelf.blogspot.com. Look for Hobo in his upcoming mystery,
How to Get a Cat to Work.