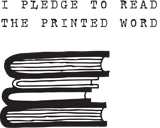 *
*
Hi, bookstore friends. As most of you know, we were served an eviction notice this week. So many of you have asked, "how can we help?" Your encouragement and support shines a bright light for us on a discouraging time. We worked so hard, and with your support, we reached out from a small, Main St. basement place to build a community bookstore. For nearly six years, we worked to build the bookstore
to be a place for everyone in the community to find something they needed, for everyone in the community to have something they enjoyed. When we got the opportunity to move into the beautiful big building at 25 Main St, we took a big risk moving, but we knew it would be worth it, for all of us!
Now, what we need -- for us, and for our community -- is the chance to negotiate further with our landlord and with our co-tenants. It is not just the eviction that is devastating: it is the timing. It is the terms which have been dictated to us. It is the accusations against us which need to be further examined and discussed.
What we are asking for is this: worst case scenario, we have to leave the new spot at 25 Main Street, before the end of the three-year lease we signed (we're only 7 months into that), but we are able to negotiate terms that won't kill us -- financially, physically, and emotionally -- so that the transition to another space works better for everyone involved.
Best case scenario: our landlord and/or co-tenants agree to negotiation, mediation, or even arbitration, so we can all be a part of laying down terms that work for us to continue to work together, longer.
The bald truth is this: we have been told we must choose between fighting for our reputation/our right to stay in this location for a reasonable length of time OR we must choose not to fight, and we must leave in no less than 2 months' time.
We cannot vacate 50,000 books and all of our shelves and infrastructure by Dec. 31. It is not physically possible. It is not emotionally possible. And financially, it will be the complete end of us -- not just our business, but most likelihood, our ability to continue to pay our bills and own our house.
That is the bald truth.
We need you to help us ask for a more reasonable amount of time to re-negotiate this situation. If we must leave 25 Main Street, it cannot be under the "options" & terms that were currently dictated to us.
Thank you so very, very much for listening, for caring, for helping.